Tennis Balls


Our tournament quality, pressurized tennis balls are handmade in England by a small, family run company that has been making balls for over 80 years and crossing 3 generations.
The white melton encased rubber ball was standard for almost a century until the ITF recommended the switch to optic yellow in 1972 – tracking a white ball on color television proved rather difficult. Today, 24 years after even Wimbledon made the switch, the Rodakis Open is still played with white balls, really the only reason it isn't televised.

Push Elephant


Our little elephant wiggles if you push his base and since you'll eventually get bored by that he's also fantastically looking on a shelf, a desk or a Lancia HF dashboard.
Push puppets were invented by the Swiss Walther Kourt Walss in 1926 who produced them in the Ticino region under his Wakouwa brand before moving production to the German Ore Mountains, where our wood carver makes them since 1954 in the third generation.
26.– CHF
7cm height

Kennedy Bookband
The exceptionally practical bookband we created for Athens biannual journal of curiosities, the
Kennedy
magazine, is a gem of a product inspired by daily life on the Académie Rodakis campus, allowing you to carry books and other loose ends with dignity. It wont hold your life together, but it sure does help the impression.
1 Liter Nalgene
If you're struggling to see the correlation of pop-up culture and social precariousness, keep forgetting which port your boat is moored in, have no kids you can blame your headache on or get inexplainably angry at the sight of a Fiat Panda; you might be dehydrated. Apparently even just 2% dehydration takes a toll on your brain function — but we departed from the product here. It's a bottle, it holds 1 liter of liquid, it's made in the USA, it's BPA free and it will last a long long time. Depending on previous dehydrated decisions you made, it might actually outlast you.
35.– CHF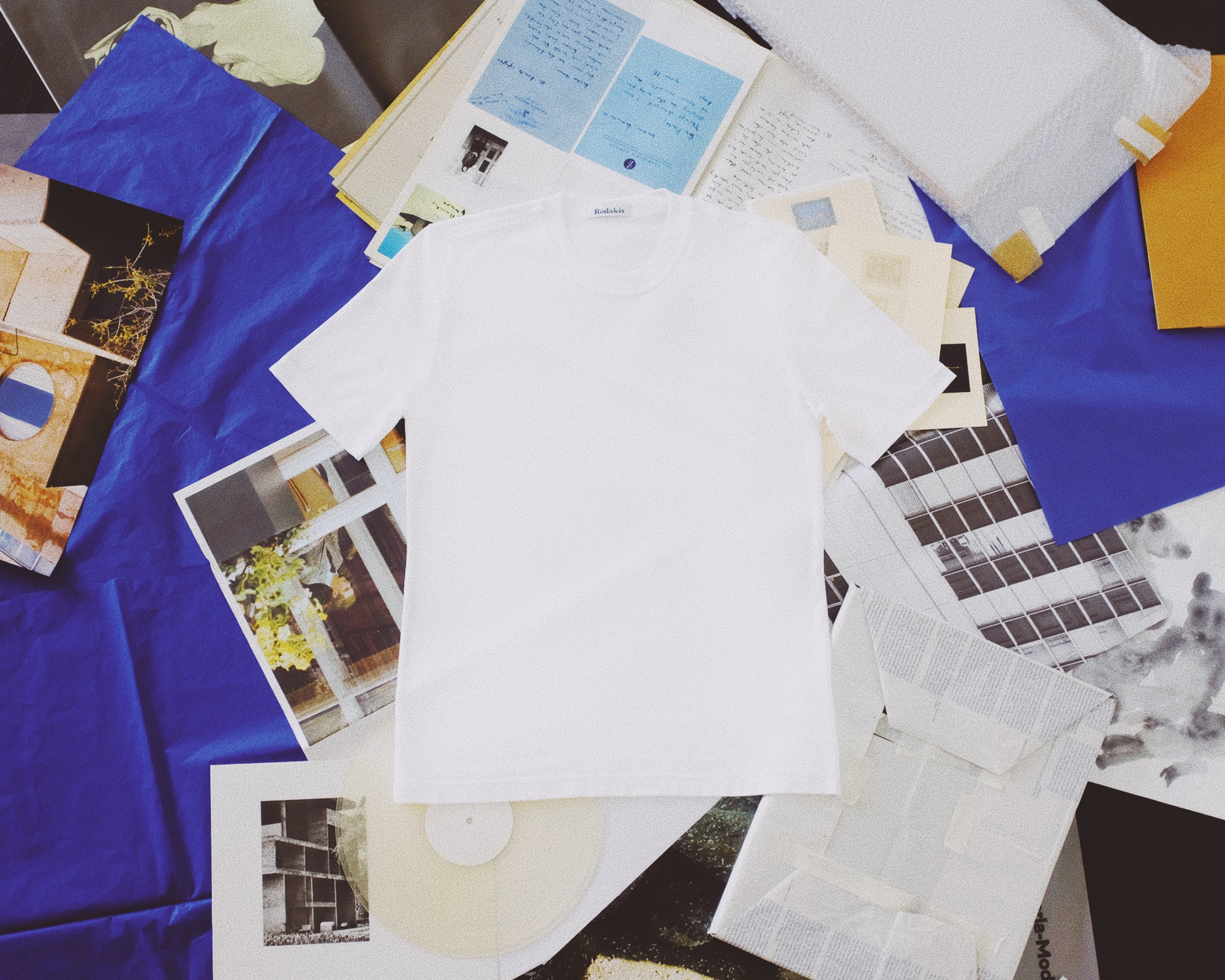 Rodakis Standard T-Shirt
Our T-shirts are made entirely in Switzerland with pure combed and ring spun bioRe® cotton yarns, living up to the most demanding social and ecological standards worldwide.
The bioRe Gossypium Arboreum cotton we use is fully traceable along the entire carbon neutral value chain and was already cultivated by the Indus Valley Civilisation around 2'600 BCE. It's exclusively licensed to our Swiss yarn manufacturer and grown around the Yawal Wildlife Sanctuary by family run farms (no plantations) which receive a unique purchase guarantee for their output, enabling conversion to organic farming and financial planning while ensuring the livelihood of the involved. Farmers and buyer form a true co-operation with regular exchange amongst the villages and educational programs for both themselves and others, resulting in better working conditions for all involved and a substantially higher return for their work. You see where this is going... there's little to improve on the look of a T-shirt, but almost everything on its production.
176.– CHF
We recommend sizing up if you're between sizes.